Complete Eyecare is More Than Just a Vision Exam
A comprehensive, yearly ocular examination is the most important thing you can do for the health of your eyes. At Eyes & Optics of Pearland ®, we use the most accurate and up to date technology to give you the most comprehensive eye care possible. We guarantee that you have never had a complete eye exam like ours. Book an appointment today to see why there is more to your vision than seeing 20/20.
Many people equate the need for an eye exam with replacing their glasses. While it is important to see well, ocular changes can occur which do not affect your vision in their early stages. Do not rely on changes in your vision, running out of contacts, or broken glasses to remind you of your next appointment. Follow the advice of Dr. Lisa Thomas O.D. P.A.; have your eyes examined on a regular basis.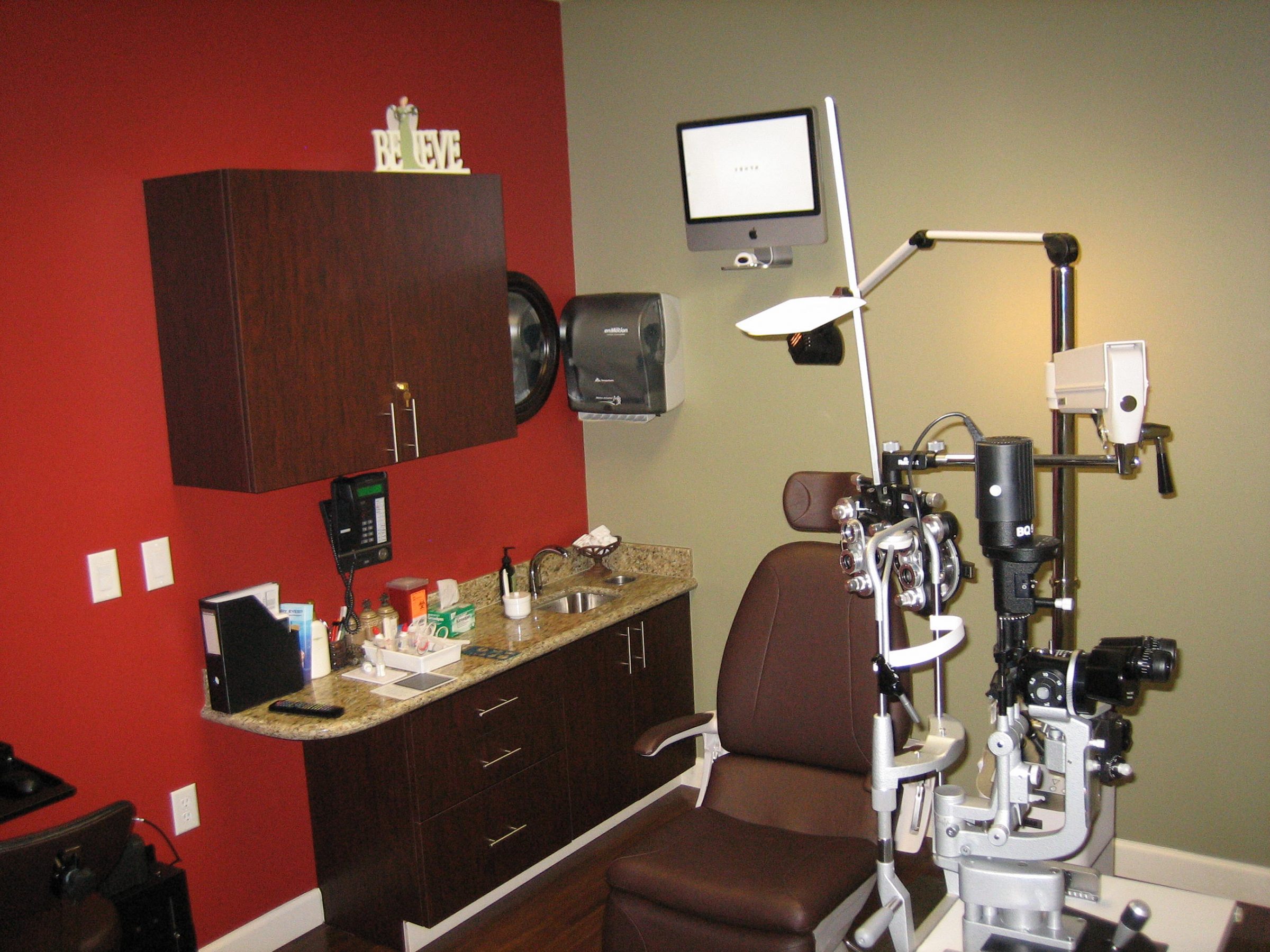 Complete Ocular Health Exams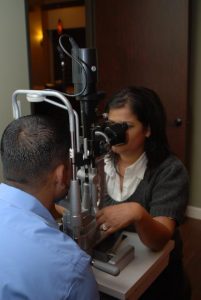 Did you know that there is more to your visual system than just reading the 20/20 line? 20/20 just means that you can see a certain letter on a standard eye chart to what a person with normal vision can see at 20 feet. Persons with the following conditions need further evaluation that routine eye exams do not provide. If you have the following conditions or have a family history of these medical conditions, you need a medical ocular evaluation. We use retinal photography in our office to monitor for any changes that may be overlooked in a dilated exam.
Seasonal Allergies
Diabetes
High Blood Pressure
Plaquenil (hydrochloroquine) therapy
Taxotere (docetaxel) therapy
Cataracts
Glaucoma
Age-Related Macular Degeneration (ARMD)
Dry Eye – Tear Film Insufficiency
Thyroid Dysfunction
Sjogrens Syndrome
Rhematoid Arthritis or Juvenille Arthritis
Roseacea
Acne
Blepharitis
Comprehensive Contact Lens Fittings
We offer expert diagnosis and the latest in contact lens technology to satisfy even those who have has trouble wearing contacts in the past.
Contact lenses are medical devices that are regulated by the Food & Drug Administration. Our office follows these guidelines as to how we fit all contact lenses. It is extremely important that all patients maintain regular appointments to ensure they are receiving the most up to date clinical guidance that is based on individual eye health needs.
Contact lenses are among the safest forms of vision correction when patients follow the proper care and wearing instructions provided by their eye doctor. However, when patients do not use lenses as directed, the consequences may be dangerous. In fact, contact lens wearers could be damaging their eyes by not using proper hygiene in caring for their lenses. We carry an extended array of contact lenses and Dr. Lisa Thomas will discuss which lens options are the best for you.
Soft Contact Lenses
Toric or Astigmatism Contacts
High Astigmatism Specialty Contacts
Bifocal contacts that help your vision for distance and near
Monovision Contact Lenses
Rigid Gas Permeable Contacts
Keratoconus Specialty Contacts
Dry Eye Specialty Contacts
Surgical Services
Dr. Lisa Thomas, O.D. P.A. works with the best surgeons to co-manage the following surgeries:
Cataract Surgery
There are several options that are available for cataract surgery today. Why suffer with difficulty seeing at night or cloudy vision? You can correct your vision for distance, astigmatism, or both far and near.  We understand that surgery can be frightening, but our goal is to educate our patients of the life-changing benefits cataract surgery can bring. Cataracts can progress until eventually there is a complete loss of vision in your eye and neither diet nor medical treatment will make a cataract go away. Make an appointment today to see if cataract surgery is an option for you.
LASIK & PRK Correction
LASIK is actually an abbreviation for Laser Assisted In-Situ Keratomileusus. We co-manage bladeless LASIK procedures.The newest technology in LASIK is the new blade-free procedure, known as iLASIK, which offers results not yet comparable to any other LASIK procedure. iLASIK combined with a custom procedure corrects or greatly improves three common refractive errors in vision: myopia (nearsightedness), hyperopia (farsightedness) and astigmatism (irregular curvature of the cornea). In each of these conditions, light entering the eye through the cornea and lens fails to focus properly on the back of the eye, called the retina. The result is blurred vision. LASIK reshapes the cornea and restores good eyesight without the need for glasses or contact lenses in most cases.
Some patients may not be eligible for LASIK and are eligible for PRK (Photo-Refractive keratectomy).  PRK was the first procedure performed using the Excimer laser. It corrects vision by reshaping the cornea. The difference between LASIK and PRK is that with LASIK a corneal flap is created and the laser is applied to the inner tissue of the cornea. With PRK, the epithelium (or outer skin of the cornea) is removed and a laser is applied to the surface of the cornea. PRK can be used to correct low to high levels of nearsightedness, farsightedness and astigmatism. Clinical and visual results are the same for PRK and LASIK.
PRK is for those who:
Have corneas that are too thin for iLASIK
Suffer from severe dry eye syndrome
Have slightly abnormal corneal topography
Are involved in large amounts of contact sports
Had previous RK surgery
Glaucoma
Glaucoma is a group of diseases that can damage the pathway between the eye and the brain.  If left untreated, glaucoma can cause permanent vision loss.  It is known as the silent thief of vision because the patient will not "feel" the disease until they lose side vision late in the disease process.  Glaucoma is found most often with eye pressure evaluations and dilated examinations.
More information can be found at:
Pediatric Services
Comprehensive vision exams for glasses or contacts
Color vision screening upon request
Testing for amblyopia (lazy eye) and strabismus (eye turn).
Medical Exams for the treatment of eye diseases and eye infections such as pink eye.In today's market, clinics are all over the market place. Trust your child's eyes with a doctor and not anyone else.We are on call whenever you need us.
Large gallery of pediatric frame styles and colors
Ages 0 to 12 months can participate in the InfantSEE program FREE of charge
Additional Services
Handicap Accessible
Our office is very Handicap friendly. Our exam lane is even set up so a person in a wheel chair does not have to be lifted out of their chair. They can roll their chair into position and all our equipment have special hydraulic systems to serve these patients in a safe and respectful manner. If you need this special service, please let our team member know when you make an appointment.
Spanish Speaking
If you need translation during the examination, let our team member know when you make the appointment.
In a hurry? We offer service excellence.
We are proud to provide exceptional service. Need your purchase shipped to you office or home? Let our team members know and we can go the extra mile for you. We offer FREE SHIPPING with all yearly contact lens purchases-you can't get that on-line. If you do not have time to step in, give us a call when you are on your way and we will be happy to bring your purchase to the car. You can come back at your convenience for any adjustments you may need.
Next day shipping available (extra charges may apply)
Rushed shipping (extra charges may apply)
Frame Adjustments
Glasses can get misaligned quickly. Let our professional team insure that you have the best fit possible. As always, all adjustments and cleanings are FREE for our patients. We would love for you to drop in.
Links
You can find more information at these links.
FAQs
Q: I do not have vision coverage with my insurance, what do I do now?
A: One of the most misunderstood notions is that you have to have a so-called "vision plan". More often than not, your medical insurance can be billed for your eye examination. Sometimes, however, depending on if your insurance is an HMO or PPO you will need a referral. If you have a concern about your the health of your eyes, whether you are concerned that you might be developing cataracts, age-related macular degeneration, on certain medications that you read might affect your vision, etc. your medical insurance will often cover your visit with us. Our staff would be happy to assist you with any questions you may have. Contact us today.
Q: What age should my child have their first eye exam?
A: This is a very common question. And the solution is the InfantSEE program! Many parents are unaware that the vision screening at the pediatrician office frequently allows disorders to go undetected. It is recommended that children visit with an optometrist between 6-12 months of age. We will make every effort to make this a comfortable and non-traumatic situation for both you and your baby. Best of all there is no cost to you.
Q: Do vitamins help the health of eyes?
A: We've all heard it, "eat your carrots"! Actually, there has been much to learn about nutritional supplements over the past years. The Age-Related Eye Disease Study (AREDS) confirmed that "high levels of antioxidants and zinc significantly reduce the risk of advanced age-related macular degeneration (AMD) and its associated vision loss."1. That being said, you should consult an optometrist, your general physician and especially your cardiologist (if you have cardiovascular difficulties) before taking any over-the-counter nutritional supplements.
Q: Will computer use or video game playing harm my eyes or my child's eyes?
A: Call it a myth, but one argument has been shown in various studies that concentrated efforts on the computer or reading greatly decrease a person's blink rate. Although this will not cause any permanent damage, when a person does not blink enough, the result is usually dry eye syndrome. Dry eye syndrome usually manifests as fluctuation in vision, blurry vision, gritty or "sandy" irritation.
Q: My parents both had cataracts, does that mean I'll get them?
A: Cataracts are an age related CHANGE. If you live to the same age as your parents you will likely have cataracts as well. I like to tell patients, "If you live long enough you will get a cataract." Certain factors can speed up cataract formation and some of those include, diabetes, ultraviolet exposure and corticosteroid use. The symptoms of cataracts often include, glare, halos and an overall decrease in vision that hinders the daily activities you engage in.
We are available on call after business hours.
CALL 713 436-6005 and follow the prompt to our emergency services.
Dr. Lisa Thomas will be paged
If for some reason, due to unforeseen circumstances, your call is not returned within 30 minutes, please visit your local emergency room. We make every effort to return your call promptly.
Contact us today or visit our appointment request page to find a time that is convenient for you to see us.